19th of October, 2017.

What is it like to be an introvert? Before I dive into that, let me explain who an introvert is.
Introvert comes from Latin intro-, "inward," and vertere, "turning." It describes a person who tends to turn inward mentally. Introverts sometimes avoid large groups of people, feeling more energized by time alone.
Now since you know who an introvert is, let me give you some first hand experience on what it's like to be an introvert.
1) I prefer time alone to large gatherings.
Now don't get me wrong, I'm not a hermit. I still like interacting with my fellow humans but my time alone is very sacred.  I spend my time alone either writing, playing the piano, watching television or just thinking. I try my best to get out of social gatherings by making excuses(I am currently running out of excuses so if anyone has any ideas, feel free to share) I honestly cannot help it because my introverted self needs time to rejuvenate and unwind. I think the hard part about being an introvert is that people think that your cancelled plans are signs that you don't like them but I still love people.
2) Making new friends is the hardest.
This is honestly a struggle. Introducing myself to someone new? I would rather go for a party(I am joking). I really do want to meet new people, I find it so exciting but the thought of going up to someone and introducing myself to them terrifies me. But I have gotten better at meeting new people over the past few years. Most people think I am snobby but I'm really not. I want to talk to you but I do not know what to say.

3) I listen more than I speak.
I don't speak a lot. I don't mind listening to people talk about their dreams, ambitions and feelings and because of this a lot of people trust me and tell me really private things about their life. As an introvert I get asked this a lot,"Why are you so quiet all the time?" I'm very careful about what I say. Because of my good listening ability, many people use it to their advantage and talk only about themselves and never let me speak.
4) I don't open up easily.
To be frank, I have trust issues and I don't open up very easily. Some may know me for years but will not know some important details of my life. Someone told me that I know everyone else's secrets but nobody knows mine. Oh well. I need to fully trust a person before entrusting them with valuable information about my life.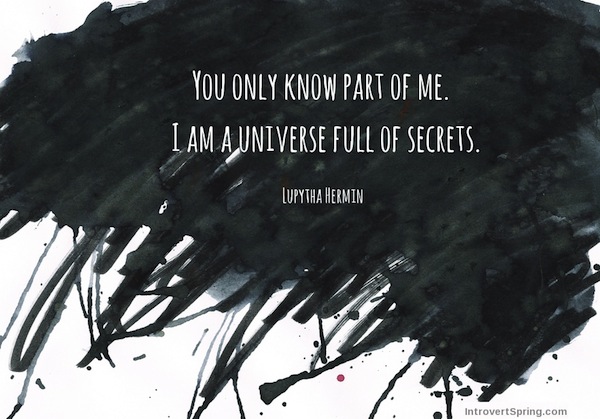 5) People tell me to be more "extroverted."
People have actually told me that I should be more extroverted from the time I was small. So I actually grew up thinking that being an introvert is a "sin". It is really not. They say that you should talk more, make more friends, blah, blah. This is who I am and I am not going to change.
6) I hate answering calls.
I absolutely hate picking up my mobile phone to answer a call. Sometimes I pretend I don't hear it or message the person saying that I will call them back but I never do (I know I am horrible) I don't like the idea of not being able to see the person while talking to them. Many people get quite mad that I don't pick up their call.
To all the introverts out there: I conclude by saying that being an introvert is not bad. It is okay to be quiet and withdraw. It is okay to have a few friends, to not wanting to go out every weekend. It is completely fine. This is who you are.
Thanks for reading! I usually post every Sundays but I wanted to start posting twice a week. Let me know if you enjoyed this post and what your experience is as an introvert in the comments below.
Have a Happy Thursday !
Lots of love,
A Shy Introvert.